Our Story
PERRY ELLIS
Perry Ellis the designer fashion brand was born from Perry Ellis the man. A man who was forward-thinking and FRESH. Not mired in tradition. Who believed fashion was FUN, and should never be taken too seriously. Patterns, pops of color, new shapes and never-before-seen styles — he embraced it all, rewriting the rules and redefining American sportswear.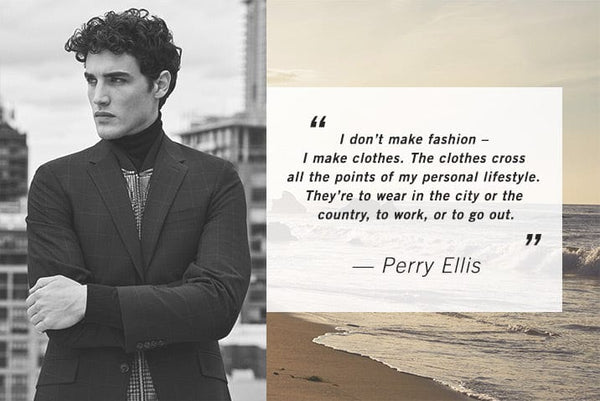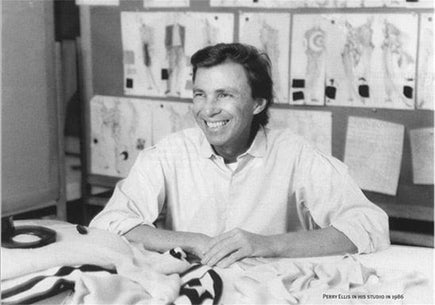 Perry's focus was on innovation; breaking down the walls of fashion and making clothes designed with REAL LIFE in mind. Not just 'fashion, for fashion's sake,' but clothes that simplify style choices. His ethos earned him accolades — including the Coty Award for his first show in 1979, which he would go on to win 8 more times, and the CFDA Designer of the Year Award in 1982. And in 1984, he became the head of the CFDA—a major influence on designers then, and now, his legacy lives on through the Perry Ellis brand.
The Perry Ellis ethos hasn't changed. Since that first unapologetic American collection in 1976, Perry Ellis clothes continue to enhance our guy's life across work, play and family - giving him the CONFIDENCE to go anywhere and do anything. Today Perry Ellis is a global lifestyle brand that continues to design clothes, fragrance, watches, footwear and more, with real life in mind. Building on our heritage, we're simultaneously INNOVATING and challenging ourselves to have a FRESH and RELEVANT outlook on life, so that we can create a VERSATILE and adaptable wardrobe.
This passion and OPTIMISM for living life to the full is instilled in the culture, written into our history and sewn into every product. But it's not a solo mission, we want to build a world that is INCLUSIVE. Where everyone can seize every opportunity and live without limits.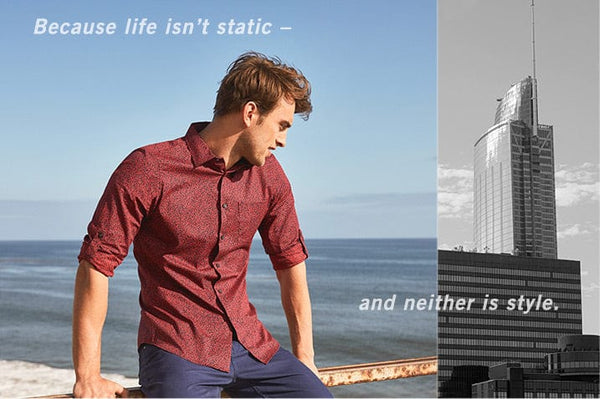 Our Heritage
Perry Ellis is born.

Perry graduates high school; is voted "Best Dressed."

First collection, Portfolio, launches.

Spring collection lauded, Perry called "designer of the future"

Perry unveils iconic Fall Collection.

Perry launches Menswear, Japanese collections.

"Chariots of Fire" collection establishes "the Ellis look."

First fragrance released.

Perry Ellis launches Perry Ellis America, in collaboration with Levi Strauss for a jeans and activewear collection.

The America line sells at major retailers.

Perry Ellis passes, age 46.

Creative Director Marc Jacob showcases the "Grunge Collection."

Perry Ellis America for men relaunches.

Perry Ellis honored on Fashion Ave. Walk of Fame.

Paul Rudd named as the face of Perry Ellis.

Runway return garners acclaim at NYFW.

First fashion brand partnership with Amazon Alexa.

Campaign and tagline "Life Ready Since 1976" highlight brand history.