A summer of tans


Jul 21, 2014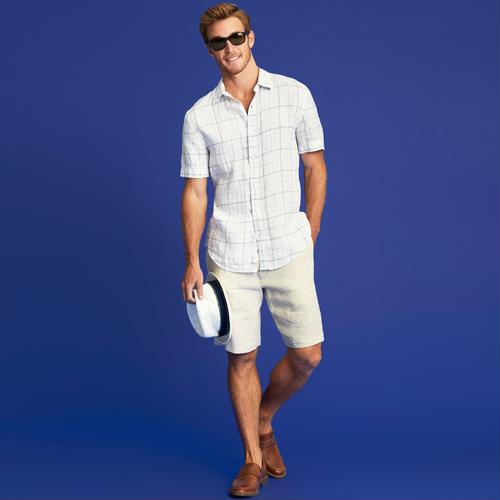 Now that the sun is blazing above you, dark colors are definitely going to get in the way of a good day. They absorb heat, making for a uncomfortable summer's day. Luckily, light colors are here this season. In fact, you can get away with wearing your favorite khaki jacket when it's hot out simply because the fabric is light enough in color to keep you from over-heating.
We've got a few tips to help you weather the summer in style.
Let your clothes be your tan
There's a strategy involved with every outfit. Some of you might check your smartphones religiously for weather updates, just to make sure you're wearing the right thing, while others might leave it all to chance. No matter how you decide to get dressed, there's no denying that you've made a conscious choice. This season, add earth tones to your repertoire. When it's summertime and the skies look clear, you're better off throwing on something in a cream, tan or white hue to help keep you cool. These colors not only look great with virtually anything, they're also extremely wearable for every skin tone.
Stand-out colors like red, bright blue, purple and orange are given new life when paired with paler hues. If you love the way your favorite Mykonos blue button-down looks with jeans, just give it a try with some light khakis or even white linen pants.
Be proactive with your style
Life is all about making the right decisions, so choose wisely when it comes to warm weather wear. Whether you're trying to keep it formal or have a casual day ahead of you, your wardrobe should provide you with enough options to keep your style without sacrificing comfort. Options abound for everything from your shoes to your hat, so make sure that you're exploring what's out there with a free spirit. Linen, lightweight cotton and chambray will all be key players, so look for accessories in materials that complement them - think rope, canvas and leather.
If you've never worn a pair of linen shorts with boat shoes, for instance, now's your chance to see if this approach to summer works for you. Last year was all about getting the most out of your pants for as long as possible, but this season, it's time for you to make certain that your comfort takes priority.